Has the Millennium Come of Age – 2018 in perspective
As we bid adieu to 2018 and welcome 2019, one cannot but help use the adulthood analogy. The year has flown past at rocket pace. It has also established the irreversibility of some of the disruptive changes. But has the world matured to accept these changes? 18 years into the 21st century, has the millennium come of age? And, what has happened to the gap between Gen X and the Millennial?
As I reflect on the year that went by and the last question that I raised, one thought comes to mind. Why not try a different method of capturing the memories of 2018? A lot has happened at my end this year and the narrative can be long and elaborate. So here is a picturesque roller coaster slider through 2018 – keep clicking and gliding!
Click on the slider to glide through some of my memories from 2018. Or else, scroll down for the conventional write-up in the form of a 18 pointer list.
18 Memories from 2018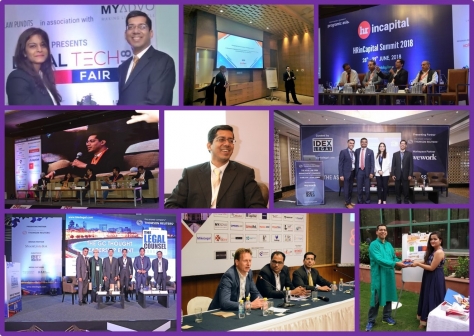 #1 – The Word Is Not Enough
Yes, there is more to the word than meets the eye. How to extract value from unstructured text using AI, ML and NLP and more in my article titled "Put Your Money Where Your Word Is" published in CIO Review India – Legal Tech Special Edition.
Since we are surrounded by unstructured text, rather than numbers, isn't it high time that we picked up the tools of the trade to ingest, absorb and make sense of text? If this field does not have the potential for disruptive transformation in 2019, then what has?
#2 – 20 Years Later…
France won the World Cup in 1998 and won it again 20 years later. I enjoyed the World Cup then, as I stepped into IIM Bangalore. 20 years later, I found myself in Bangalore yet again. This time, I went to speak at IIMBue, a magnificent event organized by the IIM Bangalore Alumni.
I was sharing my perspectives on Career Management – A Marathon or a Sprint along with Sanjay Kirimanjeshwar in an engaging session moderated by CS Sreekanth. The discussions continued well beyond the official end time of IIMBue.
Kudos to Guruprasad, Amit Tyagi, Nirmala Sankaran and the entire team for co-organizing this and so many of my batchmates for doing their bit – Shashank Kothi, Vishal Bhaskaran, Venkatesh Srinivisan, Rajiv Raghunandan, Satyakam Chakravarty and Bhaskar Choudhuri. And last but not the least, Karan Bhagat from IIFL Wealth.
As an aside, the video of Ranveer Singh and Sadhguru's session ended up with both of them dancing on the IIMBue stage and went viral on YouTube with over a million views. However, the aha moment for me was the speech by Dr Devi Prasad Shetty of Narayana Hrudayalaya, that changed my perception of what medical science really is all about and how one could connect the dots from data science to medical science. As an alumnus, I am delighted that he has taken over as the Chairperson of IIMB. I can somehow make peace with the irony that video of his thought provoking speech garnered far fewer views!
#3 – Back to Square One
This one goes back more than 20 years, as I share my thoughts on how the Finance community should approach technologies such as Artificial Intelligence, Machine Learning and Blockchain. It's almost 25 years ago that I started off working with Chartered Accountants and after traversing multiple industries and fraternities, it was a sort of homecoming!
An intriguing discussion was guaranteed with our panel of Amit Chawla (Certified Coach), Meenal Bansal (AIG), and Mohit Mamoria (Blockchain Expert) that was moderated by Kulwwant Siingh (CFO, Salvatore Ferragamo). I tried to bridge the gap between how technocrats, finance and business leaders deal with such emerging technologies, and my experiences while wearing all three hats.
Great job once again by the Programic Asia team of Shantanu Awasthy, Rimpy Rai and Taran Anand.
However, coming back to the question of whether the Millennium has come of age? Not quite, if the audience reaction was anything to go by. A lot of people appear to be hoping that the disruption does not unfold in their working lifespans. I would remind them of the adage – "If you cant beat them, join them". This is so true of the force of disruptive technologies in the 21st century.
#4 – The Big Legal Debate
A panel discussion featuring Pramod Rao (Citibank), Jesal Mehta (Apttus – a technology company featuring in Gartner's top quadrant), Dilpreet Sidhu (Mind Merchant), Anil Lale (Viacom18) and myself held as the Grand Finale of Lawserv 2018.
The reaction and questions from the audience around AI at such events confirmed my hype hypothesis. The reactions were on the same line as highlighted above.
I cannot over-emphasize the need to broadbase and deepen the understanding of the world at large about these technologies and their impact. The need to democratize the understanding and usage of AI once again comes to mind.
#5 – democratAIze
This is the thought with which I had bought the democratAIze domain. But what's Go Live without a bit of life?
I have done quite a bit with writing, speaking and sharing my thoughts with people from various domains last year. However, I now look forward to leveraging this platform to accomplish the mission of democratizing the usage of AI across all quarters of society and business.
#6 – A Tale of Two Celebrations
Reflections on World IP Day, capturing my thoughts on attending the twin celebrations of 15 years of Chennai Office of Anand and Anand and World IP Day on 26th April 2018. It is not often that the world of IP meets history and culture. Perspectives of artists on the peering eyes of technology on their performance was also an eye opener. Enjoying the moment vs living in selfie-land to overcome FOMO (Fear of Missing Out) – this is not even a trade-off for me. But then, that is only one view!
#7 – Lucky 7, Yet Again!
Yet another exhibition of the luck that "Lucky 7" brings to the table. My quora response on winning strategy for the game of Lucky 7 continued to get eyeballs. Meanwhile, I continued the tradition of writing an annual reflection note on completing 7 years as CEO of Anand and Anand.
The latter probably makes me the oldest serving outside management professional at the helm of an Indian law firm. At the same time, the former keeps me young; at least in my thinking (pun intended)!
#8 – All Work and No Play – No Way !!
Games provide an excellent platform to have fun and learn at the same time. Making games takes you a couple of steps ahead in the evolution cycle. I captured the lessons I learnt from creating the game IPMAN that was released on World IP Day last year.
This year I created two more games. Anabola is a pictorial variant of Tambola (also known as Bingo or Housie in different parts of the world) launched on Independence Day. AnaPehacha Returns is an engaging multi-player game created to provide people an opportunity to win some money at our Diwali event! I am game for sharing more details and helping customize these games, should anyone be interested.
As an aside, while designing Anabola, I did spend the maximum amount of time in getting the game play right. This involved complex probability calculations and simulations, post which I tweaked the typical prizes of the game in accordance with the layout of the game. We ensured that the prizes were evenly distributed in time. Also, we had just the right amount of time gap between various prizes. And finally, the game lasted long enough but did not stretch for too long!
#9 – Three (Wise?) Men speculating about the Future
Provocative thoughts can only be expected as I discussed the Future of Law and IP with Michiel de Bruijn (Lexis Nexis) and Ravi Rajiv Upadhyay (Ameriprise Financial). The discussions touched upon the disruptive potential of legal tech, blockchain, smart contracts, RPA, chatbots and other structural changes and innovations. The event attracted an amazing audience and I had wonderful discussions, on and off stage. Thanks to Pankaj Parnami and the team at Events 4 Sure for putting up a great show at the 41st Global Legal Confex and Law Tech Exhibition!
#10 – Professional Services Management Framework
I explained the framework that I created for managing professional service firms in an article. This draws on my experience of over two decades in service industries, including exposure to professional services such as Chartered Accountants, Lawyers and Management Consultants in addition to IT / ITES, and Research & Analytics.
I always enjoy distilling knowledge and experience into frameworks. Which reminds me that the last one I created was the 7 V's of Big Data in order to help think clearly about the central V i.e. getting Value from Big Data.
Thanks also to Reena Sengupta and the team at RSG Consulting (research partner of Financial Times report on innovation). Their "How To" report on innovation reminded me that Data Strategy can be a differentiator. I had always considered various aspects of a well crafted Data Strategy to be 'obvious'. But, as I keep reminding myself, common sense is not all that common. Yet, another reason to democratAIze!
#11 – Document Fingerprinting – Innovative Way to Understand Innovation
On a related note, I created an interesting visual story, based on the concept of Document Fingerprinting. The fodder for the script was the Financial Times report on Innovation in conjunction with RSG Consulting. The picture story did help capture some of the trends that the report covered in much greater detail.
#12 – Exceptions Prove the Rule
A panel discussion featuring Sabiana Anandaraj (COO, Trilegal), NR Jayanarayanan (CEO, Link Legal) and me were supposed to discuss why the "Non-Lawyer" (read 'management professional') CXO concept hasn't taken off in India.
Of course, we ended up discussing much more at the Asia Law Firm Management Congress in April 2018 in Mumbai. When it comes to managing law firms, the Indian scenario is maturing quite fast. One area where the millennium is coming of age!
#13 – Panel Discussion on AI @ The Legal Counsel Congress
A progressive debate on Artificial Intelligence at the Legal Counsel Congress. Valerie Bowles (ex-COO Amarchand and Managing Partner, Silk Legal Consulting) moderated the discussion. The participants were Pramod Rao (Citibank), Anupam Prasad (Indus Partners), Anil Lale (Viacom18) and myself.
#14 – On Top of the Innovation Charts
The moment of glory….this was not just about winning the award for Innovation in Data & Technology at the Financial Times Innovative Lawyers Asia-Pacific 2018.
The innovation platter that we served swept away the Data & Technology category in the 'Business of Law' section, with three of my innovative projects featured in this section. I am humbled by my innovations being recognized by Financial Times for four consecutive years.
#15 – HR gets hi-tech and agile
One of the innovations that was recognized this year was People Profiler. This is an intelligent sourcing tool that leverages NLP (Natural Language Processing) and Artificial Intelligence. It helps re-imagine the process of sourcing the right profiles. Along with the recruitment process, several HR practices are on the verge of disruptive transformation.
In this context, I was happy to have shared my thoughts on a panel discussion moderated by Brig. Vinod Dutta and featuring Pravin Purang and Mohit Sethi (Nielsen). The discussions threw light on the giant steps required to be taken to transform workplaces in an ever-changing world.
The HR world seems to be clearly divided when it comes to HR tech. On one hand, a lot is happening in this space and a lot of investments are chasing the massive opportunity set. On the other hand, it is the same old saga of clinging on to tradition and refusing to recognize that the millennium is coming of age!
#16 – The Shining Star : Content Optimization
Ever since our Content Optimization tool, DiCAP (Digital Content Analyzer and Predictor) won the Financial Times award for Innovation across Asia-Pacific, I was meaning to share my thinking behind the same.
Finally, it all came together on Christmas with a visualization inspired by the content that fed the optimization tool. In the era of declining attention spans, we need to capture the attention spans of our audience. In this context, how about creating picture stories that not just speak more than a thousand words but are also composed of thousands of words? The power of such concepts that we encapsulated in KnowViz, short for Knowledge Visualization is a sign of the Millennium coming of age!
#17 – Theatre Session – CXO Structures in Law Firms
Theatre Session conducted on making best use of management practices and professionals in law firms at Lawserv held in Mumbai. Yet another awesome event organized by Vikas Vij and the IDEX Legal team.
#18 – All is Fair in Law and Tech
It's not everywhere that one can stick their neck out while speaking. Specially, about the disruptive impact of technology in the fraternity that makes up the audience. That's Legal Tech Fair for you, the brainchild of Law Pundits (Vishnu Prasad) and My Advo (Kushal Bhagat).
Here is my short snippet on legal tech from YouTube for their inaugural event. The level of discussions have certainly matured in 2018 as compared to what we had in 2017.
Last of the Teens – 2019
Which, leads us to the next question. What next in 2019, the last of the teens? How will this story evolve?
I am not sure about the future, but I am amazed by how this article has turned out to be. I started off, only intending to create a slider with 18 pictures. However, I ended up expanding the write-up, since I felt that the picture based slider did not explain enough. Clearly this post has turned out to be a bit longer than usual. Thanks for your interest and patience and for your encouragement so far.
It is difficult to make predictions, and 2019 is no different. However, I do hope that I continue to be blessed with your good wishes (likes, shares, comments and messages) in the last of the teens, 2019. I will keep sharing my thoughts in 2019 while we wait for the millennium to come of age!